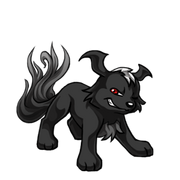 Darktail is a canine Gemling and the main antagonist of Rainbowtail. He has red eyes and black fur. A tuft of fur on his head is white and his chest and tail-tip is grey.
He teaches you how to match gems in the first levels, and then tricks you to free him from the Cell in the level 1-4 Breaking Out!. He appears again in the level 8-1 Two Rooms.
He is often called Most Notorious One.
Theories
Edit
A user of official Rainbowtail forum suggested a theory about could Darktail become good and Sketchi, a staff of Minidragon willed not response on that theory.
According to the quiz Which Rainbowtail character are you? created & shared by the official Rainbowtail Facebook page, he is one of 5 possible results with given reason: "You're Darktail! You don't mind breaking a few rules (or all of them) on the way to getting something you want. You don't have friends, you have minions. Nobody can truly understand you."
Before unspecified date of legacy version, the level the player let him free was 1-3 Breaking Out!.
Darktail got his evilified transformation since the legacy version 2.8.3.
Related Pages
Edit