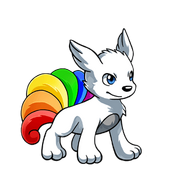 Rainbowtail is a white canine Gemling and one of the main character. Rainbowtail has multiple tails, that is made up of rainbow colors. He has blue eyes and a light grey stomach.
Rainbowtail is the character on the logo. He is a main protagonist and teaches you to play the game after the antagonist, Darktail, tricks you.
Rainbowtail might have been motivated by the nine-tailed fox due to being a fox-like creature, and having multiple tails.
He may be the voice of which the player heard the quotes, "Nice!" "Cool!" "Amazing!" "Incredible!" "Epic!" "Legendary!" "Almighty Gem Mover!" and, "Rainbow Rush!"
Rainbowtail seems to have tangled with Darktail before. This is suggested when he, without hesitation, decides to help the protagonist.
According to the quiz Which Rainbowtail character are you? created & shared by the official Rainbowtail Facebook page, he is one of 5 possible results with given reason: "You're Rainbowtail! People listen to you, because you make sense. People follow you, because you're a good leader. People like you, because you're awesome! You don't always know the right thing to do, but you always try your best."